Building Resilient and Robust Connectivity for Routing Protocols
Imagine that you would be requested to add 2 different subnets to a multi-location network, which is with static route solution and consists of 100+ branch networks, because the management decided to open a new branch office. This labor-intensive manual modifications might be error-prone and a nightmare, and the process will be very long.
Dynamic routing can make your life much easier as it has an automatic process running between all routers as the routing protocols used in most business today were designed to solve the endpoint reachability problems in large networks. OSPF routing, for example, advertises the state of links to adjoining routers. Those advertisements are forwarded to the other routers in the network, giving every router the raw data for building a complete route table. The routers determine the shortest path by adding up the path costs for each segment – the lower the path cost, the shorter the path. However, in a single-path routing network, if the path has issues, routing availability between remote sites and HQ/data centers will be lost. 
> Overlay Routing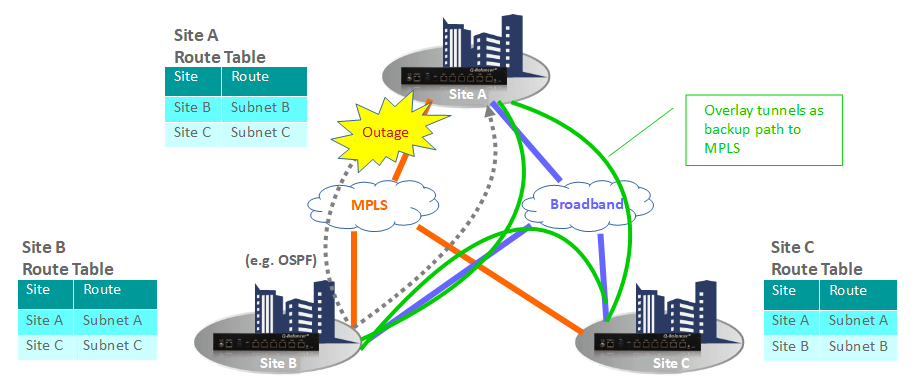 Overlay Routing
Q-Balancer overlay routing can provide resilient and robust connectivity to routings, dynamic and static. Network administrator can establish overlay tunnels between Q-Balancer appliances at each site, and the appliances then automatically install individual routes for member interfaces into the overlay route table. The overlay route tables can fully replace or coexist with the existing routing infrastructure. This enables Q-Balancer appliances to remove individual routes in the event of an interface outage and to divert all traffic to the remaining active member interfaces. To ensure the routes learned via e.g. OSPF and BGP, more overlay tunnels can be flexibly added to the appliances through leveraging broadband WAN transports.