Increasing Speed and Reliability for Site-to-Site VPN Network
Critical applications such as VoIP or Video Conferencing are frequently transmitted in site-to-site VPN networks. For multi-location enterprises, site-to-site VPN connectivity with enough bandwidth and high reliability is a key to business success.
Site-to-Site VPN
However, VPN network is established based on a single Internet circuit; should the circuit fails, there is no way to keep the connectivity. Besides, when bandwidth demand grows, adding WAN links for more bandwidth is technically difficult to achieve. This could lead to a complicated network change for legacy WAN infrastructure.

Site-to-Site VPN Bonding & Failover
> Automated VPN Tunnel Failover and Failback
Once the Q-Balancer appliances for VPN failover are properly configured at both ends, they will automatically keep the VPN connectivity up and running. The appliances will divert VPN traffic down the remaining active paths in the event of WAN outage, and send VPN traffic through the primary internet connection again once it restores from outage.
> Site-to-Site VPN Bonding
VPN Bonding has the ability to chop a single VPN session into packets and spread the packets across multiple Internet connections for transmission. VPN Bonding provides a faster, more reliable and secure connectivity for all the online activities from browsing, video streaming, and large file transfers. VPN bonding is done through inbuilt technology of XBond (bandwidth bonding technology of Q-Balancer). The setting of XBond is auto-provisioned, and so can be configured automatically in a minimal effort.
Faster and Easier Branch Network Deployment
Today enterprises are becoming increasingly distributed across the globe as the number of branch offices are growing massively. Therefore, the ability to automate branch network provisioning and configuration is essential for WAN solutions. Manual configuration is slow and error-prone, and sending engineers on site are sometimes expensive. Without manual intervention, the downtime caused by human error can be mostly prevented. 
>  Auto-Provisioning VPN Bonding
Q-Balancer Auto-provisioning VPN Bonding enables enterprise networks to be provisioned and configured automatically. Adding a new branch network to an enterprise network will take only few minutes, not hours or even days because the technology significantly reduces time and manual overhead for installation. Reliance on expensive certified experts to configure or manage enterprise networks is no longer needed.
The enterprise overlay was traditionally established in multiple step process, and yet it now can be established in few simple clicks on the branch appliance through its auto-provisioning configuration and intuitive web interface. When a branch appliance boots up, it initiates to connect central hub to build overlay tunnels and complete the rest of necessary configuration. The configuration including IP configuration, encryption, authentication, PBR routing rules, and bandwidth bonding are now all handled with little manual intervention, and hence branch network deployments can be implemented without the reliance on expensive experts or sending IT engineers on site.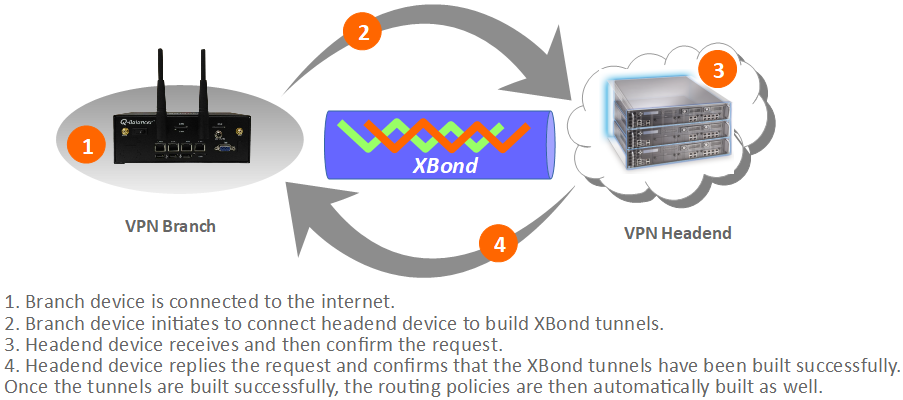 Auto-Provisioning VPN Bonding
Once a branch appliance is successfully installed, Q-Balancer automates the follow-up steps including firmware update and security patch, etc. This greatly reduces operation cost because IT can centrally send and apply settings to branch devices without any local actions taken as long as the device is connected to the enterprise network.
Top Benefits
>  Increased application performance
>  Automated VPN Tunnel Failover & Fallback
>  Fully meshed resiliency
>  Service provider independence
>  Support static IP, dynamic IP, and private IP
>  Mitigated the possibility of human errors
>  Simplified the device installation, management, and upgrades
>  Saved time and expense on the trip between office and customer premises