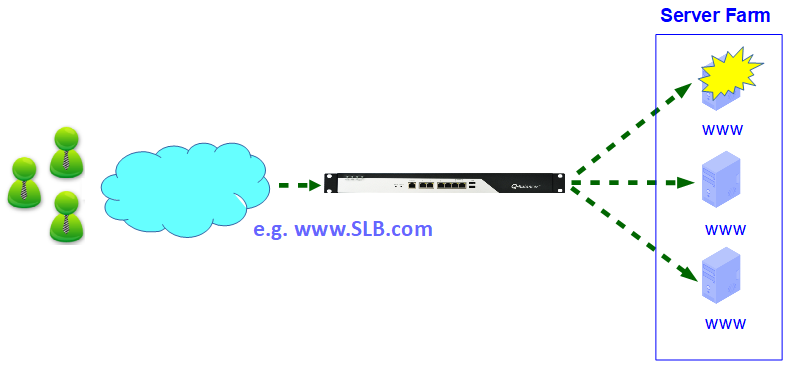 Increasing Availability and Minimizing Downtime for Applications
>  Server High Availability through Server Load Balancing 
Traffic volumes are increasing and applications are becoming more complex. Any single failure will cause serious issues to enterprises. Each server has a limit on the amount of workload resources that can be supported. To increase server capacity without affecting the existing service systems is required. Server maintenance is also a possible issue to an online environment.  
The Q-Balancer Server Load Balancing monitors server health, determines to remove the faulty servers from the server pool, and re-distributes traffic to the remaining active servers. The Q-Balancer appliance sits between the client and the server farm accepting incoming network and application traffic and distributing the traffic across multiple backend servers. By balancing application requests across multiple servers, the Server Load Balancing reduces individual server load and prevents any one application server from becoming a single point of failure, thus improving overall application availability and responsiveness. The Q-Balancer Server Load Balancing technology comes with four inbuilt algorithms that include Weighted Round Robin, Weighted Least Connection, by Source IP, and by Destination.
As applications become more complex, user demand grows, and traffic volume increases drastically, Server Load Balancing has become a necessity to enterprise network. It enables enterprises to build the flexible networks that can meet new challenges without compromising service and performance.