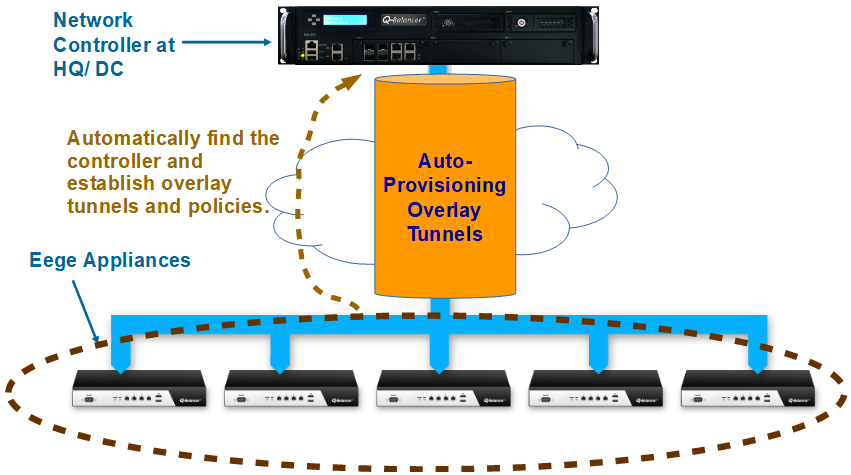 Simplifying and Accelerating Branch Network Deployment

>  Auto-Provisioning Overlay
The Q-Balancer auto-provisioning overlay (tunnel) is a key benefit of SD-WAN allowing enterprise networks to be provisioned and configured automatically. The Q-Balancer auto-provisioning overlay supports zero-touch configuration and will significantly reduce time and manual overhead for installation because adding new branch network to an enterprise network will take only few minutes, not hours or even days. Reliance on expensive certified experts to configure or manage enterprise networks is no longer needed. The main elements of Q-Balancer auto-provisioning overlay include:
Auto discovery– Automatically discovers the network controller for tunnel building.
Auto policy configuration– Automatically generates overlay tunnels and relevant policy-based routing rules on both ends.
Overlay was traditionally established in a multiple step process, and yet it now can be established in few simple clicks on the Q-Balancer appliance through the intuitive web interface. The overlay configuration including IP configuration, encryption, authentication, and routing policies are now all handled with little manual intervention. The Q-Balancer auto-provision overlay enables branch network deployments to be implemented without sending IT experts on site.
When a Q-Balancer branch appliance has been installed, the Q-Balancer automates follow up steps including firmware update and security patch. This greatly reduces the necessary expertise of an installer since a factory device can receive and apply settings once connected to the network without local action being taken.