Business are getting to realize that providing reliable Internet connectivity in vehicles will help improve business performance. Almost every transportation company today is heavily relying on IT and network communication and GPS tracking to ensure that they know where the goods and vehicles are at all times, that goods arrive faster and safer than ever. Businesses within the sector are being challenged to:
Provide redundant and reliable Internet and network access at all locations.

Provide access to application servers from vehicles anywhere and anytime.

Avoid mission-critical services being affected by potential threats and non­productive internet usage.

Provide centralized view of all services and functions on board at all locations.

Be able to improve safety and security for staffs, passengers, and goods on board at all locations.
Q-Balancer MV-Series router is able to effectively utilize all available wireless links, optimizing coverage areas while the vehicle is on the move. This provides a nearly 100% network uptime where the vehicle will always stay connected to the Internet services even if some of wireless links failed or were temporarily unavailable. The appliance is designed to provide reliable Internet connectivity for vehicles, and is able to withstand harsh environments such as vibrations, power surges, and extensive temperature range. Along with metal enclosure, the appliance is compliant with E-Mark and MIL-STD-810F vibration and shock resistance. With 4G LTE modems inbuilt, the Internet connectivity of vehicles can be built via multiple 4G carriers for maximum bandwidth and continuity.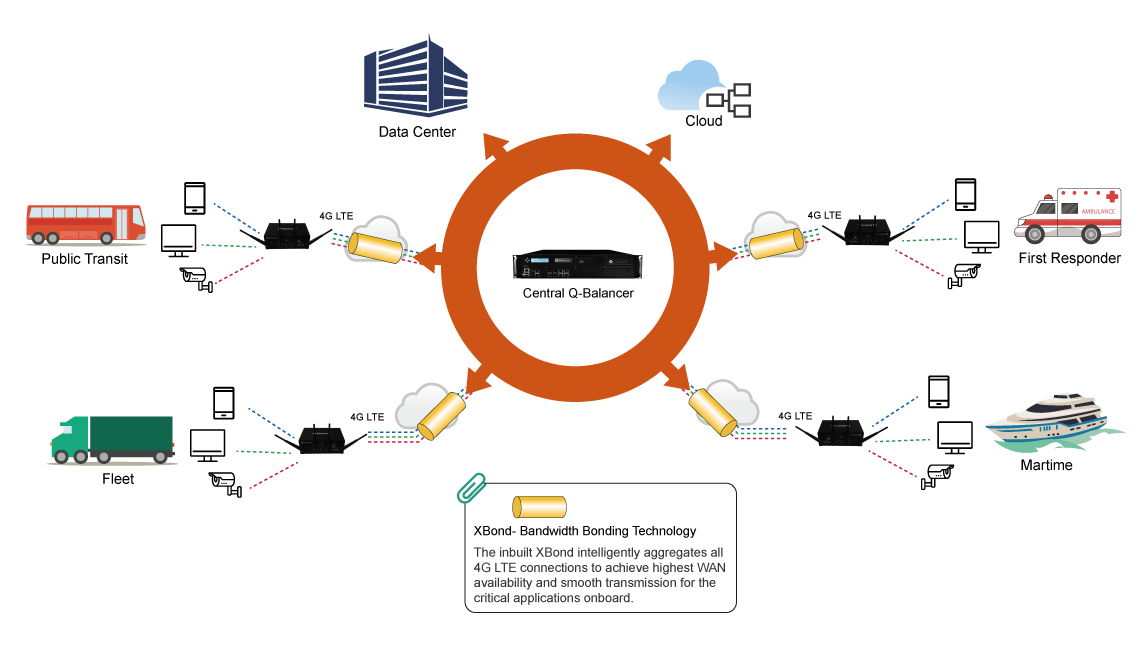 Bandwidth Bonding
Our bonding technology bonds all connected bandwidth into a single virtual line and ensure maximum availability and continuity for applications.
Unbreakable Connectivity
Utilizing a variety of services such as LTE, Wi-Fi, and Satellite to distribute load from different providers so as to enhance overall connectivity by optimizing available coverage.
Ruggedized Hardware
The Q-Balancer MV-Series is equipped with a terminal block for secure installation in cars and other locations. The hardware is designed and exhaustively tested to withstand vibrations, power surges, and extensive temperature range. This will minimize maintenance costs and service drops. Along with metal enclosure, the Q-Balancer MV-Series Router is compliant with MIL-STD-810F vibration and shock resistance
Inbuilt 4G LTE Modems
With 4G LTE modems inbuilt, customers are allowed to access Internet via different cellular providers for maximum availability and continuity.
Position Monitoring
The inbuilt GPS is ideal for fleets tracking and management applications by delivering real time geolocalization.
Inbuilt Wi-Fi
The 802.11a/b/g/n/ac Wi-Fi inbuilt modules increase the Wi-Fi service capacity for high density environments. Moreover, the module can be selected to act as a role of client or AP.
Enterprise-grade Features
The Q-Balancer MV-Series is incorporated with enterprise-class features and performance, which help handle different networking requirements and the most demanding business use cases with ease.

Highlights
Deploy in minutes

Improve passengers experience

Enhance safety and security

Ensure business-critical applications

Increase reliability and availability on WAN and vehicle-to-HQ network

Increase bandwidth 

Lower operational cost

Prevent potential threats to rail networks