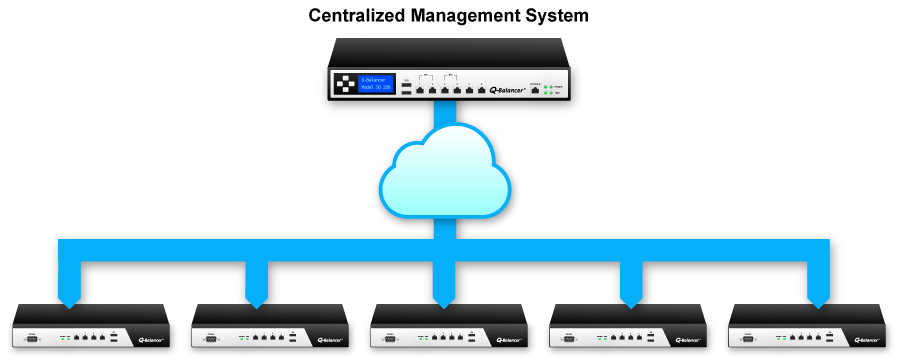 For distributed networks, monitoring and managing each of the devices individually can possibly increase overhead and become unresponsive to issues on the network when they happen. IT department needs a solution to rapidly deploy and dynamically manage networks at geographically distributed locations.
The Q-Balancer Central Management System (CMS) is a powerful platform for management, and monitoring to a Q-Balancer enabled WAN. In addition to centralizing the administration of Q-Balancer appliances, CMS provides detailed visibility into all aspects of application delivery across a distributed network. This includes traffic logs and reports, WAN performance, and bandwidth utilization.
By leveraging an intuitive graphical interface, Q-Balancer CMS simplifies many common management tasks and eases the transition from configuration to monitoring.
Easy and Quick Management
Q-Balancer CMS is browser-accessed software that runs within a VM on standard user-provided servers. Centralized configuration minimizes administrative effort and operational cost associated with managing an appliance. Rather than access to manage each site individually and risk errors occurring if the two sides of a link don't match up, Q-Balancer CMS lets you manage the distributed network as a whole, which saves your time, and dramatically reduces errors.
Instant and Overall Monitoring
Q-Balancer CMS provides instant and overall visibility into the branch networks as data can be captured by tracking traffic from the branch networks. This provides granular and accurate view of network and application performance possible.
Highlights 
Monitoring and manages all appliances from a central console

Simplifying the process of fault finding and troubleshooting

Easing the load for network and performance management

Minimizing possible errors